Today's blog is a very fun one for me, because I will be talking about ten theatre companies around the world that have really inspired me. While I deeply admire the giants like the National in England and the Abbey in Ireland, and of course get a kick out of a fun spectacular on Broadway, I am most attracted to medium-sized theatre companies that develop and present engaging new writing or provide a bold, exciting take on classics and adaptations, and deliver a warm, welcoming experience for their audience.
These are theatre companies that I would love to act with someday, knowing that I would grow hugely by working with performers, directors and designers who are absolutely at the top end of my profession – and have a fabulous time, of course! But maybe more so, they are the companies I think of when I dream about my ultimate goal of what I would love our theatre company, AboutFACE, to be: what to do and how to do it. How to make outstanding world-class theatre that keeps people coming back with joy and anticipation.
To give myself a limit, this list will only include theatre companies whose shows I have attended, not theatres I would love to go to but haven't yet seen shows at (such as New York's Elevator Repair Service, London's Young Vic, Minnesota's the Guthrie, or DC's Woolly Mammoth). Of course, this selection leaves out a hundred brilliant theatre companies, but I'm going to go with the ten that most inspire me today.
Steppenwolf (Chicago)
If I had to pick one company that excites me more than any, it is Steppenwolf. When I count on my fingers the most powerful shows I have seen, where I have given one of my hard-won standing ovations, Steppenwolf has more than any: Glengarry Glen Ross and Frankie and Johnny at the Clair de Lune, both at the Dublin Theatre Festival, Who's Afraid of Virginia Woolf and the original cast of August: Osage County on Broadway, Mother Courage in Chicago. What runs like a steel spine through their shows is an utterly specific and clear sense of storytelling – every scene, every beat, every moment, worked out and understood, through graft and craft – alongside a deep-bellied connection to honest emotion, that goes right down into the gut. There are no cheap shots, shortcuts, lazy moments in a good Steppenwolf show. The work is done, and the story is brilliantly told. To me, you can't ask for more from theatre. I love how the blue-collar, no B.S. work ethic of a group of actors that started doing plays in a church basement feels very present even today in their world-class space. They are a true touchstone for me.
Donmar Warehouse (London)
I have admired the Donmar for a long time – from afar, Sam Mendes' bold run combining new plays with bold takes on classics in an intimate space looked to me like exactly the kind of theatre I wanted to do. I revel in Mendes' idea of it being "a huge experience in a small room." (Matt Wolf's book Stepping into Freedom is a terrific and inspiring take on Mendes' time at the Donmar). I am even excited by the Donmar's red-and-black, side-barred, bold branding! So I was truly delighted this summer to attend the Donmar for the first time, and it was everything I expected and wanted. I adore the two-tiered, three-sided space, where despite being 250 seats, no audience member is more than 5 rows from the action, providing a really lovely, communal, conspiratorial gathering, where the actors can play with subtlety. The new play we saw there, Temple, was beautifully played, simply staged, engrossing and highly thought-provoking. I'll definitely be back.
Barrow Street (New York)
Probably my favourite place to see theatre in New York is Barrow Street. You walk into the Greenwich Village lobby, and it feels like you are about to attend a high-school play, and then you walk into the theatre, and the hall is each time transformed. The flexible seating means I've seen shows there in the round, in traverse, in proscenium, and the venue's 199 seats always feels truly intimate, like you can feel the actors' breath. The curation of shows there by the brilliant creative commercial Off-Broadway producers Scott Morfee and Tom Whirtshafter is done with such love, each play they put on clearly matters massively to the artistic team, and that just glows out of the space, that sense of proudly giving a chance to a smaller play, of a deeply-felt and engaging experience. I have been deeply moved by shows I have seen there: David Cromer's astonishing versions of Our Town and the English play Tribes stand out as theatre experiences I will never forget.
The Gate (Dublin)
When I was a young actor at drama school in Dublin, I was grumpy about the Gate, this well-heeled, unbreachable institution in my town. But it's funny how over time, I have come to respect it deeply. Michael Colgan's theatre at the base of O'Connell Street is a place people love to come and see shows. It's warm, elegant, classily done, and it presents a year-round schedule of great classics and sharp adaptations of major novels, done with top-class quality to packed houses. It's a mighty success, and has been for decades, solid and impressive. If our theatre can be half as consistent, proud and attractive as the Gate, we will be soaring.
The Bush (London)
I have always loved the stories of how the Bush, this little theatre venue above a pub in an out-of-the-way London neighbourhood, was the birthplace for playwrights like Conor McPherson before they found success with the big boys, and how this was due to the company's ravenous hunger to read and present brand-new plays. What you can do with a passion, a clear artistic focus and a space to call your own, is massively inspiring to me. I was lucky enough to see my first show at the Bush this year, in their new space, a converted library, which has a lovely welcoming pub frontage and a back garden perfect for that balmy summer evening. The show we saw in their simple, flexible 144-seat space was excellent – a deeply thought-provoking piece by Rebecca Lenkiewicz called The Invisible about the topic of legal aid, with a very moving performance from the lovely Irish actor Niall Buggy – but I think what moved me even more was the side Playtext Library room, off the lobby. Four walls of tall bookcases filled with plays, including the published versions of many many plays that the Bush had presented over its decades of work, available to read for free for budding playwrights or to buy at low accessible prices. A brilliant sign of the legacy and ongoing phenomenal work of a great little theatre.
Irish Repertory Theatre (New York)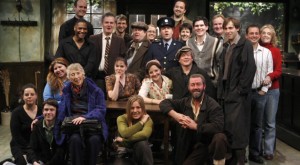 Now this one is a slight cheat because I have actually worked here; in fact, my first show in New York, I played Leamy in an earthily brilliant production of John B. Keane's The Field. But I don't think I am at all biased to say the theatre Charlotte Moore and Ciaran O'Reilly have built in Chelsea is an amazing achievement. From beginning as a community theatre gathering of Irish ex-pats in a then-rough part of Manhattan in 1988, they have grown it into a much-loved and award-winning Off-Broadway institution, that provides a year-round program of Irish and Irish-American plays, and has been the platform for so many Irish actors and writers who come to this city. One of the things I adore about it is how Ciaran and Charlotte run it with such love – you can feel it when you walk into the building. Rehearsals and shows are done with immense pride and top-level professionalism, but also with the warmth of an Irish kitchen. And once you're involved in a show there, you are part of the family, heartily welcomed back every time you return. And this leadership of warmth and generosity seeps down throughout the organization, and every audience member, interacting with the box-office or an usher, feels it. It makes it a wonderful place to see theatre, and you can see why it has built such a loyal following, in a tough-old competitive town. I always say to any young actor coming to New York, go do an audition at the Irish Rep, because unlike a lot of cold, judgmental rooms, there you'll feel pretty darn great about being an actor, and that is the heart of what makes the Rep so fantastic. They are currently renovating their space after an incredible capital campaign, and I have no doubt will continue to rise to great heights, yet never lose their wonderful character.
Propeller (Berkshire, England)
Next up, two very different Shakespeare companies, both of whom have utterly delighted me. First up, Edward Hall's all-male ensemble based at the Watermill Theatre in Berkshire, England. I first saw them at the Dublin Theatre Festival many years ago, where they presented The Winter's Tale at the Abbey. First of all, I was deeply engaged with how they staged the show with playfulness and imagination (for example, in how a little boy in pyjamas playing with a toy boat became a ship in a stormy sea), and became amazed at how the men playing the women somehow were both believable without putting on any trick and also deeply captured a vulnerability by playing the other gender, that only theatre can provide. I got so involved in the storytelling, that when the statue of Hermione came to life, I truly believed it, and was in floods of tears. At the end of the show, I stood and applauded heartily, only to realize I was the only one standing in the orchestra pit, and then not caring, applauded some more. Since then, I have followed Propeller's work like a bloodhound, and have been luckily enough to see in New York their productions of The Taming of the Shrew, The Merchant of Venice and The Comedy of Errors, all of which impressed and delighted me with their playful storytelling, packed with live instruments and pratfalls, the clarity of their verse-speaking, and their brave emotional insight. I just think they are marvelous.
Public Theatre's Shakespeare in the Park (New York)
Anyone who has been to the Delacorte in Central Park will already know what I mean here. The balmy summer evening at the outdoor theatre surrounded by trees, the cheeky buzz of a crowd all of whom have gotten their tickets for free either by online lottery or queuing up for hours or by some cunning trick, the anticipation of a top-class show in the open air. Though it can be tricky to get tickets, maybe that's part of the pleasure. I've been lucky enough to have seen some very special shows here; the one that stays with me most is a joyous, utterly clear production of Twelfth Night directed by the masterful Daniel Sullivan, every line ringing like a bell with truth and specificity, the crowd giddy with jokes and romance and vulnerability and poetry. When a long-standing play can give this much pleasure a-new, that's what makes it a classic, and the Public's Shakespeare in the Park is a brilliant reminder of that.
Playwrights Horizons (New York)
When we were in the first phase of production with AboutFACE, where between 2002 and 2005 we produced the Irish premieres of seven American plays, as you can imagine we read a lot of new scripts from the U.S. And with so many of the best plays we encountered, we would come across the words "First premiered at Playwrights Horizons, New York City." So, of course, when I moved to New York in 2006, I was so excited to see shows at PH. It is fantastic to me how they continue, year-in, year-out, to premiere bold new plays, of the moment, and how they make that exciting for their audiences. I know when I see their season announcement each year, it's like when you see the brochure for your favourite festival, you start circling plays, and saying, "Oooh, I want to see that … and that … and that!" And in fact, I just saw the best play I have seen there: The Christians by Lucas Hnath, a challenging and involving exploration of faith and the work of a church. Playwrights Horizons continues to excite and inspire.
La Comedie Francaise (Paris)
And to end, La Comedie Francaise. A bit cheeky because they are a biggie, but suitable to finish with because I am not talking so much with this last entry about the show I saw (a very well-performed, deeply-felt Moliere), but how the play ended. As I previously noted in my blog about audiences, I was inspired by the audience's response to the show, how they kept applauding and applauding, multiple curtain-calls that refused to let the actors stay backstage until they truly realized how much they were appreciated. That's the kind of theatre experience I want to create.
I am thankful to all ten of these theatres. I can't wait to see more shows at all of them.