So I am an actor who loves to read … about acting. About the theatre, its backstage inner workings, its tall tales and anecdotes, and stories of the journeys of great actors. Of course, lots about Shakespeare. I love an in-depth long-form article on a playwright's methodology. And that's not even mentioning the other side of the coin, all those books about the movies. I'm always excited to get a recommendation from a friend/colleague/mentor about a book that will inspire me – as an actor, as a can-do member of our guild, as an artist exhilarated to grab a piece of text and run with it.
Another day, I'll share some recommendations for my favourite plays, theatre/film biographies, and books on Shakespeare, but today I thought I might talk about eight books that I have found to be particularly helpful to an actor, providing genuinely insightful tools for your process, and inspiration for your creativity and joy in doing the work.
I'm going to suggest some of my personal favourites, besides the famous texts you'll find on any acting syllabus – so with of course huge respect, you don't need to hear from me about the unquestioned masterworks of Stanislavski, Uta Hagen, Michael Chekhov, Stella Adler, Peter Brook. (I'm also going to leave out the theatre book I am currently reading, the utterly delightful and insightful Joy Ride by John Lahr, featuring his best New Yorker pieces on stagefolk, as I'm only half-way through it. But I reserve the right to add it in later revisions … )
So, let's raise the curtain on:
8 Maybe Not Quite So Famous but Really Inspiring and Helpful Books for an Actor
Strengthen your ability to work on a text – Audition by Michael Shurtleff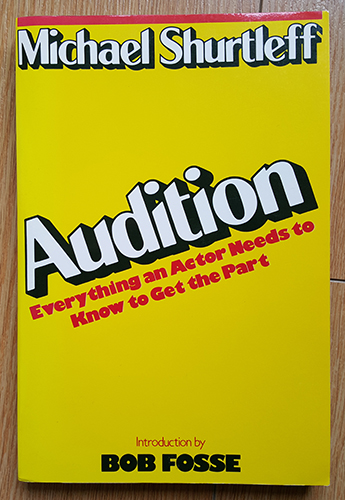 I don't know if there's a book that produces more creative juice for an actor when preparing for an audition (or frankly any performance of a script) than Michael Shurtleff's Audition. Written in 1978, it's just as vibrant today, in providing 12 guideposts for examining a text, from relationships and finding the conflict, to levels of competition and secrecy. Beautifully practical and sassily unsentimental, it gloriously provides you with a set of questions you can ask a script, so that without a director to help, you can work alone on material, and find all the fuel and spark that is within it. To be honest, if you only read one book from this list, this is the one – the code, the manual, the mentor-in-print. Acerbically funny in its truth-telling yet also full of love for actors, it's such a great book my wife Anna and I both have our own copies of it in our library …
Understand how the stories you tell are constructed – Story by Robert McKee & Into the Woods by John Yorke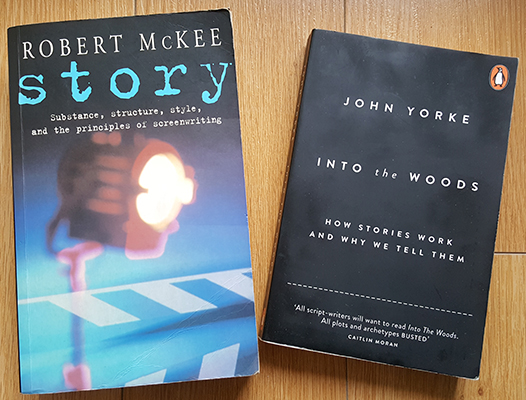 I am a deep believer that actors are storytellers – not puppets on a string, but artists who bring their insight and creativity to bringing a script to life. They owe a honourable duty of care to deliver the writer's story to the audience as best as they can. To do so, they must understand not just their role in the piece, but the story as a whole. How it is structured, how it builds. As such, I think there are two texts that are truly genius at helping us to look at scripts and divulge their blueprint, find their foundation, see the gorgeous lines of their construction, and those are Story by American screenwriting teacher Robert McKee and Into the Woods by British TV show-runner John Yorke. If you want to learn about turning points and mid-point revelations, set-ups and rushes of information, inciting incidents and gaps in expectation, these are wonderful guides.
Be excited to practice – How to Stop Acting by Harold Guskin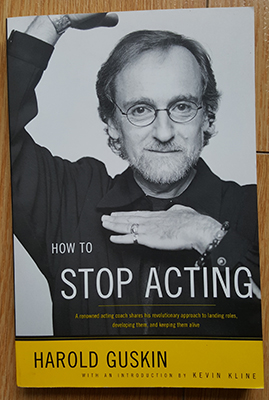 This is a book I have only come across recently, and found it really invigorating. Harold Guskin is great on the idea that one of the key things we need to do with material, is say the lines aloud – a lot. Reading them and saying them, and reading them and saying them, but purposefully and enjoyably. Each time for a different reason (for example: in a rage, for laughs, intimately, for pure logic, for petty reasons) seeing how in each go-through we respond to the text, what impulses come up, and filling up the tank of possibilities in a set of lines. He starts us from the place we always want to be at: that we are responding in the moment to what is in front of us, so it is always an exploration, every run-through, every rehearsal, every practice, every take, every performance. That there is no fixed ideal, but rather we are always active, fresh-minted, surprised and surprising, like life. He encourages us to practice being available to ourselves, to our intuitions, to our crazy flashes of insight and strange notions, as we approach the work – always resulting in performances that are more colourful, exciting and unique. Guskin proposes clear exercises, offers monologues and scenes suitable for each step, and will make you feel like practicing your acting every day. (He also says it's okay for an actor to leave his or her script on the kitchen table, which is dead right).
Open your creativity with rehearsal exercises – Masterclass by Dean Carey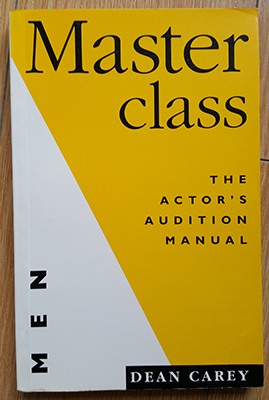 I love this book. I initially picked it up in late '90s before going to drama school, because it had over 100 monologues in it, so I could find a great one to audition with. Indeed it does. But the gold in this book is the range of hugely practical exercises that its author, the Australian acting teacher Dean Carey, provides for you to work on your material. Super-useful and clearly road-tested, he provides a range of exercises and games that you can try out on the script, that will help playfully draw out aspects of the character and scene, that truly are unique to you, your responses to the circumstances in the story. I still regularly use his exercises Extend/Advance (for turning key words on the page into sensory experiences), Explore and Heighten (for amplifying different sides of the character, as described in adjectives) and questioning Is This Good or Bad For Me? He's also brilliant on on beat defining and titling. I guarantee after bringing some of his exercises to your prep work, you'll find yourself invigorated, ringing with creativity, feeling the lines in your bones, and quite possibly, surprisingly already off-book (and having spent a very fun afternoon). Well worth having in your arsenal. (Plus it has really fun photos of a young, pre-fame Hugh Jackman in rehearsals, that can only inspire you.)
Learn to flesh it out and pop – Acting 2.0 by Anthony Abeson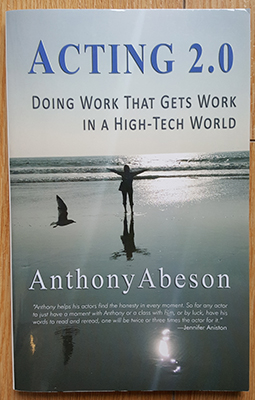 Now I am going to state up front my conflict of interest here: this is the book by my old acting teacher in New York, Anthony Abeson. A giddy joy of a man, he draws from his own background training with Lee Strasberg, Stella Adler and Jerzy Grotowski, among others, to teach actors practical ways to bring truth to material that flares with unique personal creativity (and book rather a lot of work, especially in film and TV). His warm and generous collections of essays Acting 2.0 is full of love for the actor in the modern world, and sets out a number of the utterly practical and playful approaches he has, that lead to an actor "popping" with life. "No recipes – whatever works," as the man himself often says. He is brilliant on what he calls FIO'ing (Fleshing It Out) – never letting a word be spoken from the page that has not been imagined in its full life, acted out, pictured, felt, so everything said and done on the stage vibrates with resonant past-life, meaning and experience. He is terrifically incisive on moments before and the need to have found a trigger that drives you into the scene on fire; on grabbing a hold of your stereotype by the throat and making it a strength, and never retreating from working your weaknesses; and on reminding us that when we act a role, we represent all the people who have had that experience, and so we must do justice to them. Anthony is a deep believer in the self-respect of actors, and any reader of this book will only find warm encouragement to be integrous, playful and bravely full of life.
Challenge yourself to delve deeply into your work – The Intent to Live by Larry Moss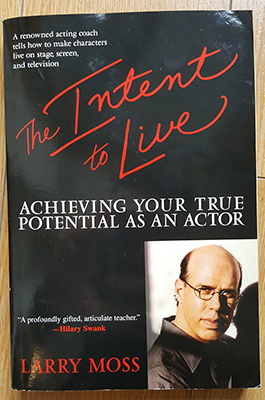 When you are ready to be challenged by a hard-ass teacher, there's one man to go to – Larry Moss. His workshops in New York and LA are legendary for the exacting high standards he demands from actors – their capacity to be off-book, the rigour of their accent work, their willingness to dig right into the roots of a scene, their courage to bring fully of themselves in the situation proposed. And his book, The Intent To Live, is no different. Larry pushes you to stretch yourself towards your true potential as an actor, and not to settle for anything slipshod, cliched or facile. He is brilliantly comprehensive on the questions you need to ask in order to probe for all the facts that are there in a scene, and building a very specific system of wants. He opens creative doors you may not have considered, like endowing objects with past meaning, finding resonance in the blood memory of your character, and the rich physical sensations of places. He's not easy on actors, but that is only because he sees such beauty in the actor's purpose … and challenges us to honour our storytelling with truly our best work.
Be inspired by the stage – Theatre by David Mamet
Now obviously Mamet is a master playwright and a very powerful thinker about the craft, and you wouldn't go wrong reading any of his books. True or False is excellent, hugely challenging, even at times maddening (to the point that I know an acting teacher who flung it across the room in mid-read rage). And we know Mamet loves to snarl and throw a grenade into the kitchen, with the idea that when the smoke clears, there'll be a hard, spartan, clean truth awaiting (maybe a little sour-tasting, but good for you, you know?) But the book of Mamet I really love is this collection of essays from 2010 on theatre. Yes, it is still written with Mamet's knife of a pen, with the no-nonsense gruffness of a hunting cabin, but whisper it … Mamet's love for the theatre, after all these years, comes pouring through, and it is full of heartfelt belief in the importance of plays and in the powerful capacity of actors and in the mighty imagination of audiences. He slams preconceived notions on the floor, and leaves them for you to make your own decision about … always with the sense of great possibility. If you're an actor, you're going to be pretty psyched to get to work after reading it.
Picture yourself about to go on stage – The Half by Simon Annand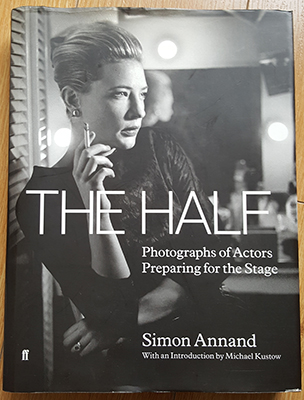 Maybe now you're done reading – but there's still one more book to see … and it is gorgeous and spine-tingingly inspiring to look at. It's Simon Annand's magnificent coffee-table book of photographs of actors preparing for the stage – in dressing rooms putting on make-up and creating characters, warming-up in sweaty t-shirts, standing anxiously in corridors in full costume. It tenderly captures actors' private moments before going out to perform, that delicious time before heading out to do it – getting into the zone, hearing the audience enter, getting your five minute call, readying yourself. I love not just seeing the actors captured in their concentration, joy and suppressed-terror, but also all the lovely paraphernalia that makes a dressing room personal – "break a leg" cards, photo postcards reminding you of the mojo of the character, lucky teddies and tea-cups. Derek Jacobi napping at the Old Vic, Kristin Scott-Thomas getting her hair done, Benedict Cumberbatch checking his pockets. If you'd like to picture yourself working on Broadway or at the Donmar Warehouse or the National, this is a magic source of inspiration. (And just maybe, that vision will come true some day …)
Thanks for reading … hopefully you're inspired to take a little trip to the bookshop …
***