I'd like to talk to you today about an endangered species.
The genuine standing ovation.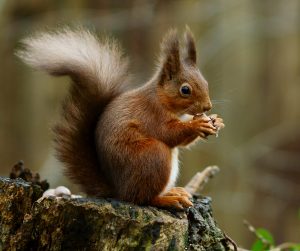 He's a bit like the red squirrel, that lovely Irish creature, rather gentle and delightful, who is being routed and pushed aside by his rapacious and rude American cousin, the grey squirrel. The red is now disappearing from Irish woodlands because some fool introduced the grey to his environment, and the grey is much pushier, more aggressive and rather less soulful, and so is taking over and pushing aside gentlemanly ol' Red.
I don't like it. And now, I am seeing a similar phenomenon happening with standing ovations in Irish theatre audiences.
Now, as an actor, there are few things more joyous and gratifying that receiving a true standing O from your audience. They have appreciated your work that much. Wow. But let's be very clear about what a standing ovation is.
Good theatre is invigorating. It's live, and when it's finely done, it makes us feel alive. It moves us. Literally. Initially our innards, our emotive juices, our gut, the electrons of our brain, our groin and our heart. What Elizabethans (who saved theatre after the Dark Ages and produced, y'know, that Shakespeare dude) called the Humours. It's viscerally right in front of us (in a way that the gentle caress of a novel on our mind or the distanced magic of the cinema screen isn't), performed right here right now for us by brave actors, you can hear the words reverberating in your ears, you can smell the sweat in your nostrils, you can taste the storm of tension in the air. And more than anything else, you feel it. If it is a well-told story, it builds in stages to climaxes, provides rushes of information to our mind and thrusts emotion to our core. It gets into our bodies and produces all kinds of strange, wonderful and touchable feelings. It is physical. And when it ends, we need to, have to, respond physically. And the best way we've culturally learned to do this is to applaud. To smash our hands together in unison to say well done, kudos, thank you for those actions and your courage and the impact they had on me.
And sometimes. Just sometimes. Probably rarely. But certainly at the best of times. That show has been so impactful on us – touching our hearts so much we have trouble swallowing and our eyes are heavy with tears, making us laugh so plentifully that our bellies ache, drawing us into the story so much that we have been clenching our fists along with the hero and sitting on the edge of our seats – that the physical reverberations inside us … well, just clapping isn't enough to release the gathered explosions of how much we've been moved inside.
We have to put our whole bodies into it. We can't stay rooted to our seats one second longer.
We have to stand.
And when we feel this way, we must do that.
I've been to hundreds of plays, and I can recall only a handful of times I've been that moved. You remember them. They stay with you.
Such as Steppenwolf's engrossing August: Osage County on Broadway. David Cromer's revelatory Our Town at Barrow Street Theatre. John Breen's gorgeous rugby play Alone It Stands in Dublin's Andrew's Lane (ironic considering the title!).
Once, after watching Propeller's The Winter's Tale at the Dublin Theatre Festival, I was so wrapped up in the show that when Hermione moved, I believed she was a statue coming back to life, and I wept with blissful joy and appreciation. And at the end, I stood, you better believe it, and applauded raucously. And only as the applause around me started to settle and fade, did I realize I was the only one in the orchestra standing. Initially I was a little embarrassed (eeeek, who's that dude?), then I was perplexed (what show were you watching, people?!) and then I was serene (well, I loved that show, that was my true reaction and I'm so glad it was).
And there's the rub: the urge to stand and applaud needs to come from inside. From all those swirling, tumultuous, electric feelings inside you that have been created by the play.
It doesn't matter a damn what is happening outside you. That's not relevant. Obviously.
I think you know where I am going with this.
If you weren't so moved by a show, and don't have those feelings inside your arms and legs, then there's no reason you should stand.
Even if people all around you are.
Because nowadays, people are giving standing ovations utterly cheaply. And that inflation is slowly, relentlessly murdering their worth.
I started to see it on Broadway, where you'd go to terrible productions … and people would stand. I saw a stale, miscast, lumbering version of Les Miserables, that was on its last legs, and closed shortly thereafter, that you could barely give away tickets to. Yet, at its curtain call, people stood in their droves. Huh? All around me, throughout the show, I'd seen people shifting in their seats, yawning, scratching, I didn't hear one gasp, see one tear on a cheek, hear anyone mutter Omigod Jean Valjean. (And listen, Les Mis done properly is incredible; when I saw the movie in the cinema, I wept so many times my cheeks were salty). They were plainly not that into it. Yet, at the end they soared to their feet. Huh? And then you start to reason it out, and you remember, most people seeing a Broadway show have paid a lot of money. Quite possibly they're on vacation from out of town, and expect a brilliant experience, and can't wait to tell their friends about the show they saw and stood for. Instead of an instinctive reaction, on Broadway, it's become part of the routine.
And you want to know how to test that? See how long the standing O lasts. If in the amount of applause time, the cast can go off into the wings, wait three beats and the crowd are still applauding, and the actors need to come back out for an encore bow, that's more likely to be legit. But I bet it ain't that long.
Because applauding for a long time is hard work on the hands and forearms. After a while, genuinely clapping starts to hurt. But when the urge is internal and needs to be released, that doesn't matter. Walking out into the lobby, with palms that are still stinging a bit but a head buzzing with the show you've just seen, is an ace feeling.
And now I've started to see the fake standing ovation at shows in Dublin. Ugh. Not everyone has been to Broadway, so I wonder if it's years of watching awful manipulative shows like Pop Idol and The Voice where standing ovations are a trope, choreographed and not special at all. But it has seeped in. I've seen people give a standing ovation for 20 seconds, and then stand and put their coat on while the applause ends. I've seen people pop back on their phones during a standing ovation. I've seen people clearly miming clapping so they won't have to put the effort in! If these things are happening, that's not a standing ovation.
That's peer pressure.
Lads, you're not 14 years old. Be honest. Be true. Be brave.
Luckily we have an alternative. This awful plague hasn't yet swept good theatre in London or on the continent. (Touch wood). There, standing ovations are still rare. Rather, if someone really enjoyed a show, they keep clapping. And the cast must keep returning for encore bows. It's lovely. And the crowd stops clapping when they, as a unit, are done. Any day of the week, I'd take length of applause over height of applause.
So let's not let the standing O be worth zero.
Please, next time you are at a show, think of the red squirrel. Of course, please applaud. And keep applauding until you are satisfied that the urge within you is spent. And if that urge is so strong you just need to stand and applaud, bravo, go for it. But don't worry about who is standing around you. Be your own person. Have your own response to the show. Don't be a lemming jumping off a cliff into cheap mediocrity.
C'mon, people. Let's Save the Standing Ovation.
###